Window Cleaning is a complex business, and there certainly isn't a one size fits all approach to this task.
What height are the windows?
What size?
Are they curving or flat?
Are they shop window or office back room?
Our investment in a wide variety of equipment enables us to clean your windows in the safest, most cost effective way:
Reach and Wash water systems
Access equipment
Abseiling and cradles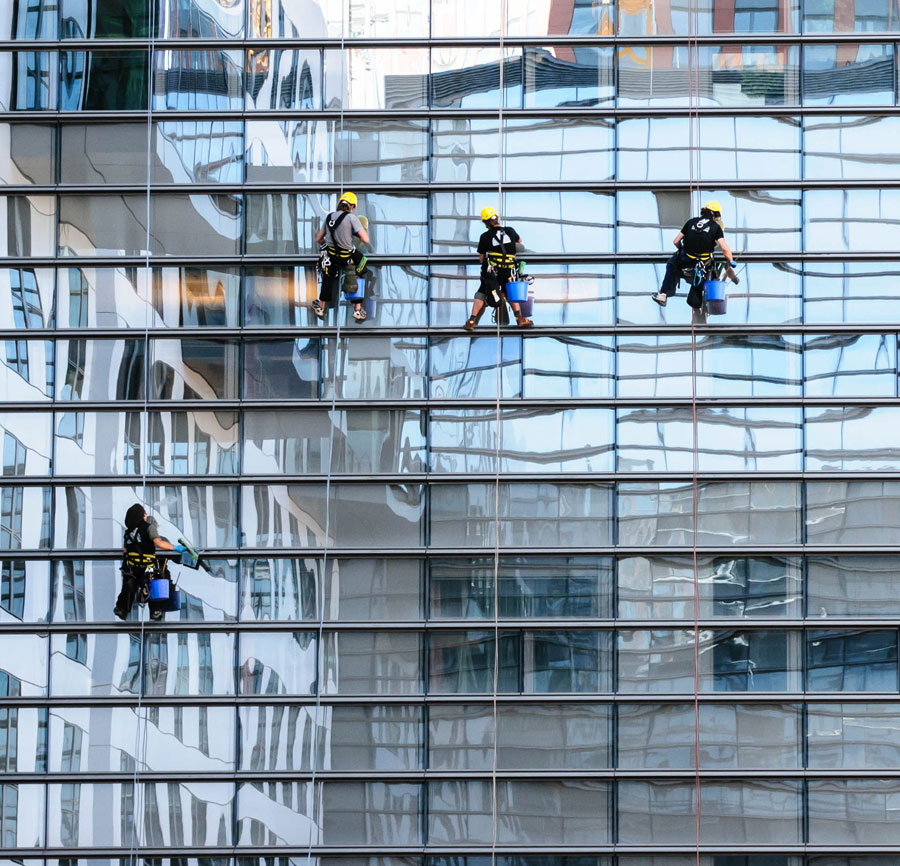 Client Testimonials
Attended site today for a meeting with David. site are happy with the standard of cleaning, David went on to say how Carlos was so helpful with everything, never moans when asked anything just cracks on and does the job without causing any issues, David spoke very highly of Carlos and also said that there was a good team on site.
John Butler rung me to say that Tracey the cleaner had bought all the boys in a tray of cakes and he wanted to let me know. he said what a lovely thing for her to do.
3Way Cleaning have been our cleaning contract company since we opened our distribution centre in 2000. They provide us with excellent customer service and are very reliable. They do exactly what they say they are going to do and, more impressively, exceed our expectations regularly
Just thought I should share some very positive feedback about one of your team. Since re-opening on Saturday, your colleague Betty has proved to be a shining star. Adhering to all guidelines put in place, obviously sticking to the cleaning plans / schedules you have in place, and reacting to requests without issue when required. Praise regarding Betty has come to me from both customers and colleagues, please pass on my thanks.
Just a quick note – thank you for the quick response arranging the deep clean today and also for getting the hand sanitizer for us.

We really appreciate your help.
Just a quick email to say how much we appreciate having Charmaine as part of our cleaning team at Westcroft Leisure Centre. The cleaning standards Charmaine produces is of an excellent standard. You can really notice the difference in any room, changing room or toilet after Charmaine has left. There is always a pleasant smell, no signs of dirt and even small marks on walls and doors that go unnoticed are removed.

Please pass on our gratitude and thanks for the service she provides.
Just have to highlight how good it is to have Vicki back to work.

All 3Way staff are pleasant and I never have any problems.  That said Vicki is outstanding!

I could tell when I came in this morning that Vicki was back last night.  The standard of cleaning is amazing.  The floors had been vacuumed well and everything smelt and looked immaculate.

Vicki goes above and beyond.
I thought I would share some good news with you: at the Citywealth Brand Management and Reputation Awards last week we won Gold for Events Programme for the Year!

I wanted to thank you all and let you know that all your hard work preparing and delivering our events do not go amiss!

Coralie and I will proudly display the awards at our desks.
The person who cleans our kitchen, does an amazing job, I am not sure if she does our office and the toilets but they are also well kept.

I think she even puts the kettle on. Nice touch.
Your team is doing a fantastic job, you are right we have remerchandised the aisles and there are no easy ones. Your guys are doing an amazing job. Vasile in particular is absolutely great and runs a tight ship and not at all afraid to get his hands dirty.
We've found 3Way Cleaning to be a professional, open and above all else efficient company to work alongside, with high standards not only maintained but challenged day to day.

The "in-house" management team are always on hand to manage the teams wherever needed and also to ensure holiday and sickness is always covered. I would highly recommend 3Way Cleaning to any potential client, as they always do what they say they are going to do. We are extremely pleased with the services offered and glad we appointed them.